97th AMS Annual Meeting | 22–26 January 2017 | Seattle, WA
Experiencing JPSS Capabilities
21 January 2017, Seattle, WA ROOM: Skagit 4
view in conference program
The AMS Short Course on Experiencing Joint Polar Satellite System (JPSS) Capabilities was held on 21 January 2017 preceding the 97th AMS Annual Meeting in Seattle, Washington.
Short Course Summary
A team of scientists from the JPSS Program Office, the NOAA Center for Satellites and Applications (STAR), NOAA Cooperative Institutes for Research in the Atmosphere (CIRA) and for Meteorological Satellites Studies (CIMSS), NOAA Office of Atmospheric Research (OAR), Penn State University, University of Maryland, and others organized and successfully conducted a one-day short course at the American Meteorological Society (AMS) Annual Meeting, focused on the Joint Polar Satellite System (JPSS). The short course titled "Experiencing JPSS Capabilities" engaged the participants with scenario-based training on new data product applications developed for JPSS's advanced observational capabilities as well as provided an introduction on polar-orbiting satellites and instruction on how to access JPSS data and online resources available for training. The data product applications ranged from monitoring sea ice and fire and smoke to tracking tropical storms and assessing the pre-convective atmosphere. Participants were from academia, government and international organizations, and private industry.
The course presentations and other training documents are available at http://rammb.cira.colostate.edu/training/visit/links_and_tutorials/ams_seattle_jpss_short_course.asp.
The participants expressed great satisfaction when evaluating the course.
Participants who completed the course received 4 continuing education units (CEUs).
Instructors: Mitch Goldberg (NESDIS/JPO), Fuzhong Weng (NESDIS/STAR), Lihang Zhou (NESDIS/STAR), Lori Brown (NESDIS/STAR), Wanchun Chen (NESDIS/STAR), Ninghai Sun(NESDIS/STAR), Liam Gumley (CIMSS/UW), Jorel Torres (CIRA/CS), Jeff Key (NESDIS/STAR, UW), Amy Huff (PSU), Shobha Kondragunta (NESDIS/STAR), Evan Ellicott (UMD), Ivan Csiszar (NESDIS/STAR), Dave Santek (CIMSS/UW), Nick Bearson (CIMSS/UW), Dan Nietfeld (NOAA/OAR/ESRL/GSD), Chris Barnet (STC), Galina Chirokova (CIRA/CSU), Andrea Schumacher (CIRA/CSU), Emily Berndt (NASA MSFC), Amy Stevermer (COMET), and Patrick Dills (COMET)
For more information please contact Gary McWilliams: gary.mcwilliams@noaa.gov.
Photos from the Short Course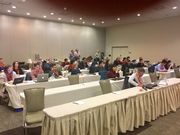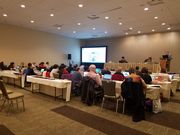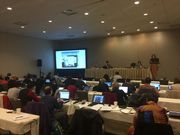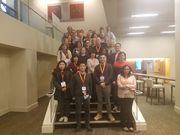 Short Course Registration
All short course/workshop attendees must register and wear a badge/ribbon. Short course/workshop registration is not included in the 97th Annual Meeting registration, and short course/workshop registration does not include registration for the 97th AMS Annual Meeting.