97th AMS Annual Meeting | 22–26 January 2017 | Seattle, WA
Motif Seattle
Motif Seattle
1415 5th Ave, Seattle, WA 98101
Distance to Convention Center: 3 blocks
Internet Access: Complimentary
Reservation Cut-Off Date: 28 December 2016*
*Please note that rooms are available at the AMS rate on a space available basis until this date. To ensure you are able to make a reservation at the AMS rate, we recommend you book as soon as possible.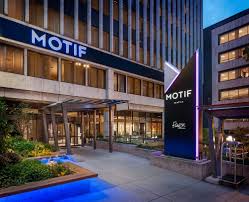 Attendee Reservations
Rate: $167 plus applicable taxes and fees
Phone Reservations: 1-855-515-1144, mention AMET
**Please make note that the Motif will be undergoing a renovation December 2016 - April 2017. This beautiful design is inspired by the eclectic Seattle art & music scene, the serene woods surrounding the city, and the shimmering Elliott Bay as seen from our guestrooms. Guestroom floors under renovation will be closed to all guests until their completion. Construction crews will be working on the closed guestroom floors between the hours of 8 am – 6pm (excluding time for set up/clean up) and will restrict any possible noise disturbance to 10:00 am – 5:00 pm to ensure minimal impact to in-house guests. The hotel is confident that guests will not be materially impacted by these updates and will still enjoy Motif's uniquely Seattle atmosphere, central location, and award winning rooftop bar Frolik Kitchen + Cocktails!