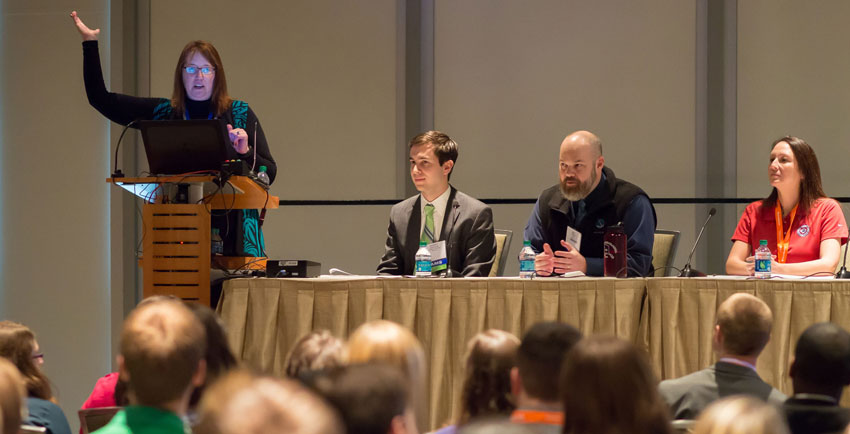 Our Side Panel Program is partnered with Town Hall Meetings to allow for the conversation to continue outside of the technical sessions with the ability of the conversation to be recorded.
View the Town Hall and Side Panel program
VIEW THE PRESIDENTIAL TOWN HALL MEETING PROGRAM
Deadlines
Final program deadline: 15 October 2017

Edits to Townhall/Side Panel information: 30 December 2017

Food & Beverage orders submitted: 01 November 2017

Deadline for sponsorship to be included in the printed program: 01 November 2017

November issue of BAMS: 15 August 2017

Deadline to upload files online: 31 December 2017
Guidelines
Please note that Town Hall Meetings & Side Panel Discussion are accepted on a first come first serve basis.

A confirmation email will be sent upon beginning and completing a submission proposal. This email will contain an ID and Password which will grant access to updating Side Panel Information so please save these emails.

Uploading: One uploaded supplementary File is permitted for each panelist/speaker which can be uploaded online or in the speaker ready room. This entry will be associated with the Panelist/Presenter's name only. Please upload your supplementary file(s) in the Speaker ready room at least 3 hours in advance of your Town Hall Meeting or Side Panel Discussion. Onsite Uploading can be done as soon the Speaker Ready Room opens. Organizers should notify their speakers of the aforementioned process

Recording: Side Panel discussions offer the option to record. The panelist(s)/presenter(s) must be added to the people step of the form if a supplementary file will be presented during the panel. Adding this person creates an entry to upload to in advance.

Side Panel discussions will be scheduled either before sessions, mid-day, or after sessions end and will not be scheduled up against the technical sessions of the Annual Meeting.

Room Set-up: All rooms are set theater with a head table for 5. Please review the basic room set below.
Basic room set for the audio/visual includes:
1 Screen of appropriate size;
1 Data/Video Projector;
1 AMS Supplied PC;
1 Connection for an author supplied computer;
Digital Timer;
1 Podium microphone;
1 Lavaliere microphone;
2 table mics and
1 audience microphone
AV Equipment Requests:
Additional Screen (Dual-Projection): ($100)
Additional LCD Projector (Needed for Dual-Projection): ($350)
Flipchart with Markers: ($40)
Panelist Microphone(s): ($40 each)
Supplementary slides will be used (no charge)
Voice recording ONLY: ($150)
Voice and slide recording: ($350)
Proposals
We are still accepting submissions for a new Side Panel Program which is partnered with Town Hall Meetings. Please consider submitting a proposal for a Town Hall meeting should the Side Panel formatting conflict with the needs of the event.
SUBMIT A SIDE PANEL DISCUSSION PROPOSAL
Please also reference the grid of currently scheduled Town Halls and Side Panels before selecting a date & time preference.