What are ePosters?
ePosters are a new, interactive and dynamic approach to traditional paper posters! AMS will be offering this as a feature within our traditional Annual meeting poster session.
Unlike PDFs, an ePoster is actually a website -- they can be viewed onsite during the meeting on 36" desktop monitors, as well as before, during, and up to 12-months after the meeting on our website. The content of each ePoster is data-driven, which allows the content to be easily searchable in our database, unlike a collection of PDFs. And, you have the ability to find out who is viewing and searching your ePoster online post-meeting.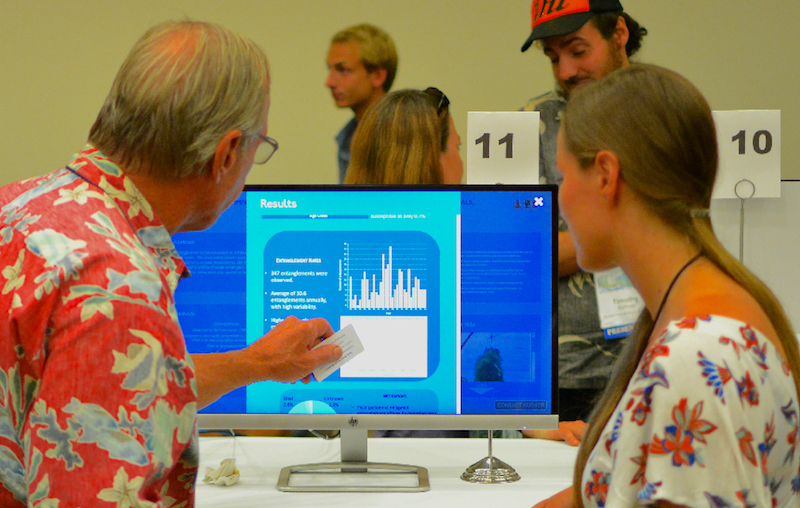 Presenters can easily build their ePoster content online using a template, and add images, text, links to external websites, videos, and audio narration. Presenting authors will also have the opportunity to upload videos of themselves presenting their ePoster. Presenters can make changes/updates anytime, even during the meeting -- or allow different co-authors to view and edit as well.
Take a look for yourself: https://ipostersessions.com/electronic-poster-gallery/
What is the ePoster format?
There will be three ePoster sessions that will run concurrently with the traditional poster sessions. Each ePoster will be assigned to a specific poster session and will be displayed on a 36" desktop monitor. Viewers will be able to interactively and dynamically view and zoom in/out each poster, using the capability of a mouse.
Over the course of three poster sessions, each ePoster presenter will be allotted a 60-minute time slot per poster session, to present the ePoster and to answer questions. The presenting author must be present during their scheduled presentation time. This means, there will be two ePosters per monitor during the traditional two-hour poster session, and presenters will switch half-way through. Please note that as we continue to plan for and develop the ePoster sessions, we will continue to keep in mind accessibility.
All ePosters will be available on demand on the ePoster monitors throughout the duration of the meeting -- therefore, presenters are not just limited to your ePoster time slot.
Accepted poster authors will receive further technical guidelines on how to prepare their ePoster to display properly. Please note, there is very limited ePoster space available and will be based on the program chairs' discretion -- submitters will not be guaranteed an ePoster.
Please contact meetings@ametsoc.org with any questions about this format. We look forward to a dynamic, interactive and educational poster session in 2021.
How do I submit an ePoster to the 101th AMS Annual Meeting?
To be considered for an ePoster, please make sure to select 'ePoster Presentation' under 'Preferred Presentation Format' during the abstract submission process. ePoster presentations are offered only by the conferences below:
The abstract submission fee for an ePoster is the same as the fee for a traditional poster, $95. While the AMS does not limit the number of abstracts a person can submit, some program chairpersons may limit the number of oral presentations per speaker within the same program. Also, please note that it is AMS policy to not allow the same presentation be given as both an oral presentation and poster within the same conference.
Check your inbox for a confirmation email. It will contain your abstract id and password, which you can use to make changes to your abstract and upload your supplementary information (instructions below).
You'll receive an acceptance email approx. 4-6 weeks after the abstract deadline.