»

Teachers
Teachers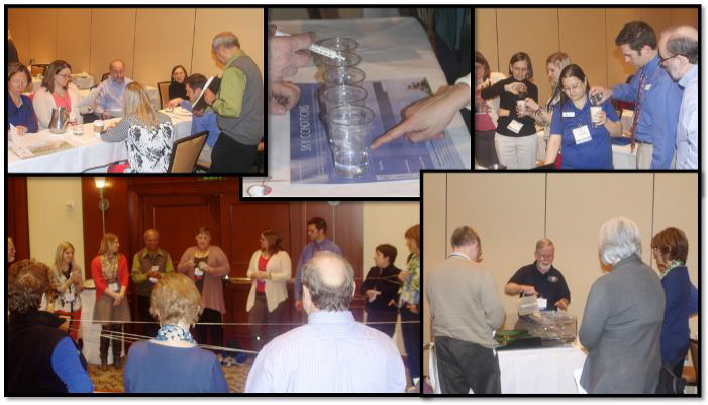 The AMS Sixth Annual Teacher Workshop is coming to New Orleans!
The American Meteorological Society (AMS) Teacher Workshop exists to present innovative and effective educational resources, scientific tools, and research in the atmospheric and related sciences to 4th-12th Grade educators. Its primary purpose is to promote relevant STEM learning and an awareness of AMS, its services, and its leadership in the field.

Agenda
Workshop Date
Saturday, 9 January, 2016
Time
8:00am – 5:00pm
Location
Hilton Riverside New Orleans
Two Poydras Street, New Orleans, LA
Workshop attendees are free to browse the various offerings that are part of our Share-a-thon scheduled for Saturday afternoon and engage in a variety of STEM activities pertinent to Workshop theme: Earth System Science in Service to Society. We will host a variety of organizations simultaneously that will share their educational resources and activities.
Share-a-thon
Would you like to become a presenter at the AMS Teacher Workshop Share-a-thon? Click here to get more details and submit your application.
Workshop Audience
4th-12th Grade educators from the New Orleans, Louisiana metro area, other Louisiana school districts, and interested educators from other states attending the conference.
Registration
A registration fee of $25 has been set for the Teacher Workshop and Share-a-Thon. Registration is limited to 100 teachers and must be completed online or through the Teacher Workshop Paper Registration Form. There will be no on-site registration and YOU MUST REGISTER BY Friday, 11 December 2015 if there is still space available.
Those attending the Workshop will receive a FREE copy of the AMS Weather Book - valued at $35. This book contains more than one hundred graphic illustrations, in full color and exceptional detail that serve to illuminate and explain a host of atmospheric phenomena, from the Northern Lights and lake-effect snow to the jet stream and ocean currents. This book will be distributed on-site and only to those that attend the workshop.
NOTE: Registration for the Teacher Workshop does NOT include registration for the 96th AMS Annual Meeting.
Sponsor Benefits
The AMS cordially invites you to be a SPONSOR for the AMS 2016 Teacher Workshop. This workshop will provide additional exposure for your company or organization. We are pleased to offer these benefits, as our way of saying thank you, for your generous support.
THANK YOU FOR SUPPORTING THE TEACHER WORKSHOP: