»

Exhibits
Exhibits
Monday–Thursday, 4–8 January; Exhibit Hall 5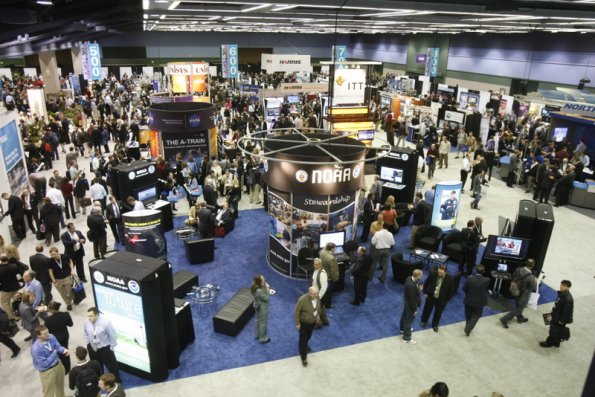 The AMS Annual Meeting is host to the largest exhibit program anywhere in the atmospheric, oceanic, and related sciences. Exhibitors come from all over the United States and abroad, with over 100 organizations showcasing a wide range of products, publications, and services. The show allows organizations to make major announcements and roll out new products. Demonstrations of new and innovative equipment are given daily. The exhibit schedule is designed to both encourage social interaction and provide an opportunity to look at future trends in equipment, systems, and software.

Show Hours
Monday, 5 January
5:30–7:30 p.m. (Reception/Cash Bar)
Tuesday, 6 January
9:30 a.m.–6:00 p.m.
Wednesday, 7 January
9:30 a.m.–6:30 p.m. (5:30–6:30 p.m.; Reception/Cash Bar)
Thursday, 8 January
9:30 a.m.–12:00 p.m.
Visiting the Exhibits
The AMS attendee badge includes admission to the Exhibit Hall. Nonregistered guests of exhibitors should bring their invitations to the Exhibitor Check-In Desk to receive their guest pass. Guests are only allowed on the exhibit floor during show hours and must wear a badge at all times.
For additional information, please contact Jenn Rosen, AMS Exhibits Manager (Email: [email protected]).
Suit-casing
Exhibitors at the AMS 95th Annual Meeting have invested and committed their support to this industry. They have planned for several months or more to bring the Attendees the experience they seek and deserve. Only contracted Exhibitors are permitted to promote their products, services or company at the Annual Meeting.