The Career Fair is an excellent opportunity for job seekers and organizations to network. Job seekers can interview on site, in a one-on-one setting, with organizations looking to recruit highly talented individuals. Organizations can attract the attention of more than 4,000 professionals, recent graduates, and students in attendance.
The Career Fair is open to all attendees of the Annual Meeting and the Student Conference. All attendees are encouraged to stop by, whether they are soon-to-be graduates, young professionals, or seasoned pros!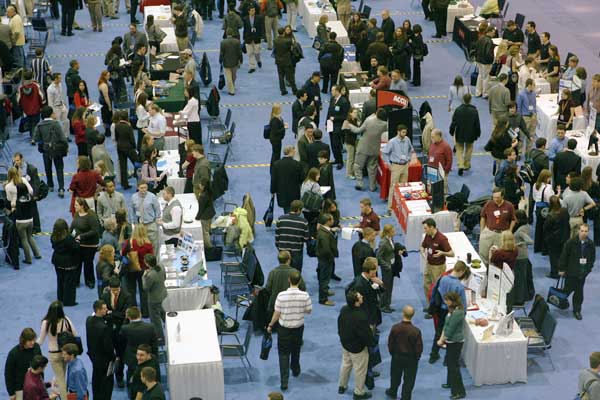 Hours
Saturday 5:30 p.m. – 7:30 p.m. for Student Conference Attendees Only
Sunday 5:00 p.m. – 7:00 p.m.
Monday 12:00 p.m. – 4:00 p.m.
Job or Graduate School Seekers
On the evening of Saturday, January 21, the Career Fair reception is free and open only to attendees of the 16th Annual AMS Student Conference.
On Sunday and Monday the Career Fair is free for all attendees.
Submit a Resume
Meeting attendees who wish to submit a resume to be viewed by Career Fair recruiters please register.
Organizations at the 2017 AMS Career Fair
AccuWeather, Inc.
Ace Info Solutions, Inc.
Air Force Technical Applications Center
AMS BPSM
AMS CCM/NCIM
AMS Membership
AMS Policy
ASLI
Coastal Carolina University
Colorado State University Dept of Atmospheric Science
Columbia University M.A. in Climate and Society
Desert Research Institute
Florida State University, Earth, Ocean & Atmospheric Science
Global Science & Technology, Inc.
IM Systems Group Inc
Iowa State University, Meteorology Program
Millersville University
Mississippi State
Mount Washington Observatory
National Center for Atmospheric Research
National Weather Service
NOAA Center for Atmospheric Sciences (NCAS)
NOAA Commissioned Officer Corps
NOAA-CREST Center
North Carolina State University
One Energy
Plymouth State University
Purdue University EAPS
REsurety, Inc.
RSMAS / University of Miami
San Jose State University Meteorology Department

Stony Brook University
StormGeo
Texas A&M UniversityTexas Tech University
The Aerospace Corporation
The Pennsylvania State University
The University of South Carolina
UCAR/SOARS
UCAR/CPAESS
Unidata
University at Albany, SUNY
University of Alabama, Huntsville University of Arizona, Department of Atmospheric Sciences
University of California, Davis
University of Colorado, Boulder
University of Illinois
University of Kansas
University of Maryland - AOSC
University of Maryland - ESSIC
University of Michigan
University of Nebraska - Lincoln
University of North Carolina at Charlotte
University of North Dakota
University of Oklahoma
University of Utah
University of Wisconsin-Madison
University of Wisconsin-Milwaukee
University of Wyoming
USA Weather, Inc.
Washington State University
WeatherHype & WASIS Students
Western Michigan University
Wilkens Weather
WxChallenge
Recruiter Registration
Registration for the Career Fair has closed! To add your name to our waiting list, please contact Beth Farley.