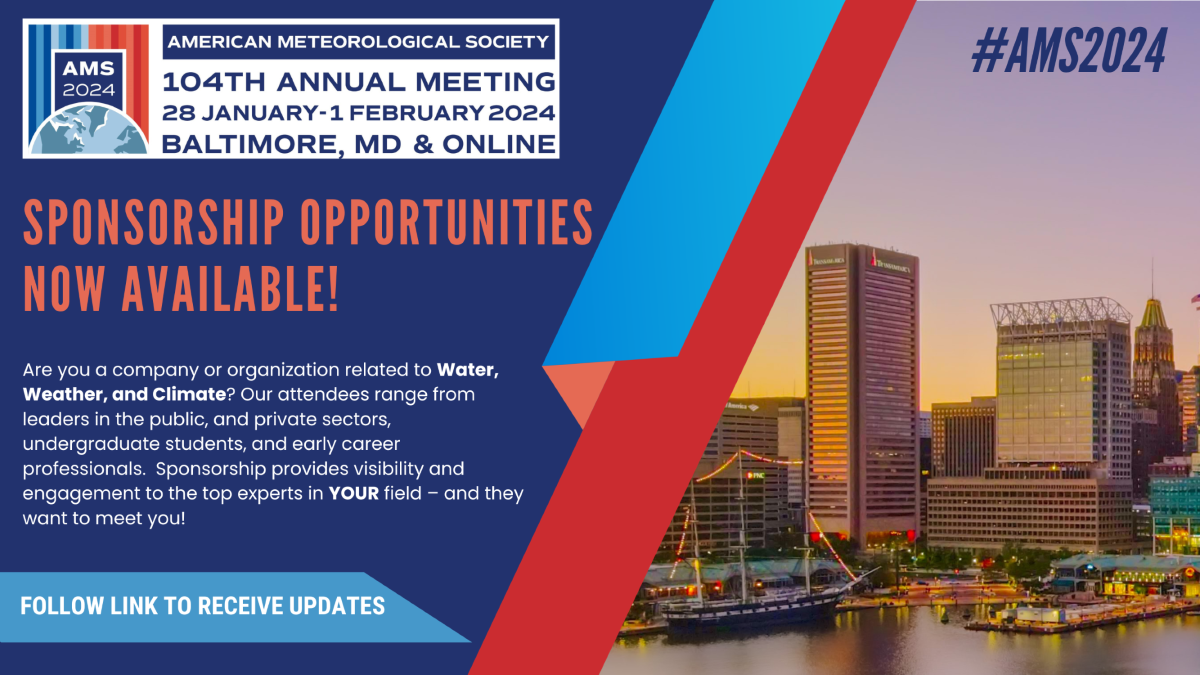 Sign Up for Updates See Sponsorship Opportunities
Be a Part of the Largest Annual Gathering of the Water, Weather, and Climate Community
The AMS Annual Meeting returns 28 January –1 February 2024 in Baltimore, MD. Last year's Annual Meeting was a fantastic week with over 7,000 people in combined attendance. The theme of "Living in a Changing Environment" will focus on providing a setting for attendees from the public, private, and academic weather, water, and climate community to collaborate, network, and promote public understanding of climate variability and change.
We are excited to host the Annual Meeting in close proximity to the hub of private companies, colleges and universities, and policy makers in the Baltimore/DC metro area that are at the forefront of confronting the environmental challenges facing society. The AMS is planning opportunities for organization's of all sizes to sponsor the Annual Meeting. Sign up here to get the latest information and alerts about sponsorship opportunities. Don't forget to follow our social media channels at the bottom of this page.
Why Sponsor the Annual Meeting?
Business visibility and growth - The Annual Meeting will provide opportunities to have your brand on display in high-traffic areas of the convention center, the exhibit hall floor, and at special events to a targeted audience. Remember, this will be a hybrid event with online attendee access opening up an even wider audience for brand recognition.
Job candidates - People are the most valuable asset found at the Annual Meeting, and finding the best minds to staff your organization can be key to its success. Baltimore will provide multiple access opportunities to support and network with aspiring job seekers from undergraduate and graduate programs, early-career, and experienced candidates.
Support the science - A primary goal of every Annual Meeting is the sharing of scientific knowledge and development at its wide range of conferences and symposiums. Organizations sponsoring the Annual Meeting recognize the strength of their business and that the path to solving the challenges of climate variability and change lay with strong private/public sector partnerships.
Corporate Social Responsibility - Secure sponsorships above and beyond business! The AMS has made it a priority to support socially responsible initiatives at in-person meetings. Organizations will be able to partner with AMS in reducing the carbon footprint of the Annual Meeting, and providing support to events and initiatives related to diversity, equity, and inclusion.
Opportunities for companies of all sizes - Sponsorship includes tiered options that will provide entry points for organizations of all sizes and budgets.
Let us know what your organization's goals are for the Annual Meeting. AMS can help craft a sponsorship experience and even explore creating new opportunities to help you fulfill those goals in 2024!