Thank you to our Local Organizing Committee!
Brad Colman, Pamitha Weerasinghe, and Bernadette Woods Placky, Co-Chairs
Alison Banks, Scott Brillman, Kelly Cebulko, Tom Di Liberto, Gaige Kerr, Carlos Martinez, Bart Merrick, Frank Niepold, Bob Maloney, Ava Marie, Michelle Smith, and Louis Uccellini
Scarf Fundraiser
Alright AMS community, it's time to show off your stripes! Climate stripes! This year at the AMS annual meeting we are introducing a "hot" new item, the 2024 Annual Meeting Scarf Fundraiser. The scarf displays "climate stripes," which represent an issue important to many of us. The stripes were created by climatologist Ed Hawkins in 2018, and now shared by many through the outreach work done by the National Oceanic and Atmospheric Administration's, Climate.gov.
We know that our community members will enjoy wearing and displaying this iconic scarf, for both fashion and practical reasons. It will be winter after all. We also know that our members enjoy giving to important causes, particularly ones that seek to make a difference in the host communities of our annual meetings. The cost of the scarf is $20 and a portion of your purchase will be donated to Blue Water Baltimore, a local nonprofit that works to restore the quality of Baltimore's rivers, streams, and Harbor to foster a healthy environment and build climate resilience.
Show your passion for giving, climate science, and AMS all at once by purchasing your 2024 Annual Meeting scarf when registering. The scarf will be available to purchase online until January 24th. When at the meeting, the scarf can be picked up at either the AMS Booth in the Career Fair (students on Saturday, 27 January or all attendees on Sunday, 28 January) or the AMS Booth in the Exhibit Hall from 29 January-1 February. Scarves will only be sold in limited quantities on-site during the meeting. The best way to guarantee you are able to show your AMS pride is to purchase one at the time you register!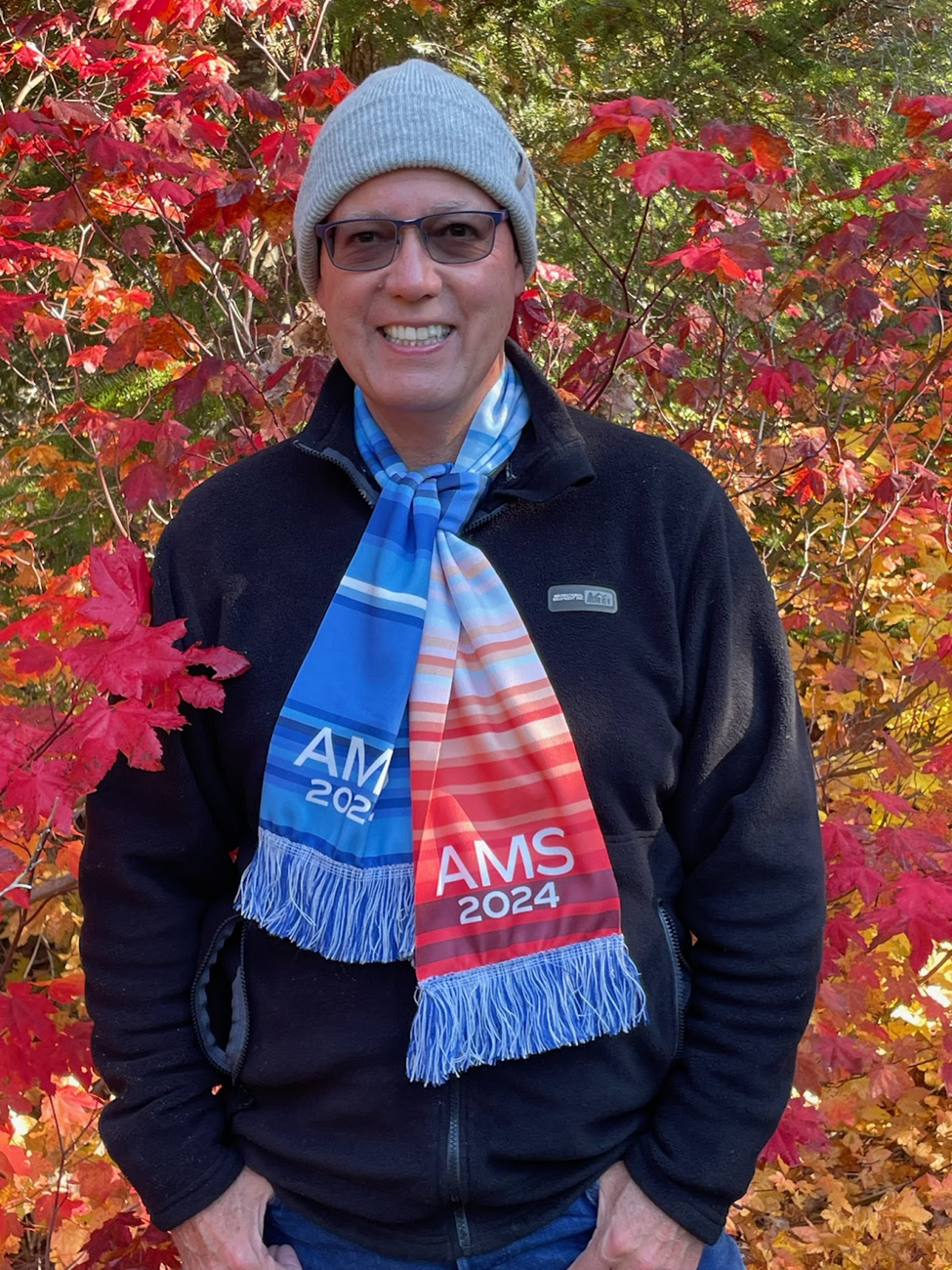 Looking good, Mr. President! That's what I call an AMS fashion GOOOAAAAALLLLLLLLLLLLLLL. Remember, Annual Meeting scarves will not be available for purchase after the meeting.
Events
Camden Yards Tour: Sunday, 28 January 2024 | 11:00 AM - 12:00 PM & 2:00 PM - 3:00PM Eastern | Camden Yards
Wikipedia Edit-a-thon: Sunday, 28 January 2023 | 11:00 AM - 2:00 PM Eastern | Baltimore Convention Center, 317

Scout Event: Sunday, 8 January 2023 | 7:45 AM - 12:00 PM Eastern | Embassy Suites by Hilton Denver Downtown Convention Center

Bridging Spirituality, Faith, and Science for Weather and Climate Resilience: A Community Gathering: Thursday, 1 February 2024 | 11:00 AM - 2:00 PM Eastern | Hilton Baltimore Inner Harbor, Key 8

Daily Weather Briefings