Arizona Science Center Reception
Monday, 5 January, 7:00–10:30 P.M.; Arizona Science Center IMax Theater
Free and open to the public!
AMS Annual Meeting attendees and the public are invited to attend a Monday evening reception at the Arizona Science Center, sponsored by Arizona State University. The reception will feature a demonstration of Water Sim—an interactive decision support tool for water resources, developed by the Decision Center for A Desert City at Arizona State University.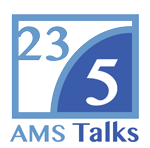 One of the evening's highlights will be a new AMS program called "23|5 Talks." This hour-long set of public talks will follow the format of the well-known Technology, Entertainment, Design (TED) talks and will feature thought-provoking talks from Marshall Shepherd, Kristen Averyt, Sheldon Drobot, and David Kenny on their views and perspectives on weather, water, and climate. This year, our speakers will present topics of interest to the general public and Phoenix in particular. Although Arizona is quite familiar with extreme weather, alternating between drought and flash flooding, dust storms and extreme heat, the uncertainty of future climate brings significant concerns particularly with regard to the water and energy nexus.
The Arizona Science Center is at 600 E. Washington St., immediately behind (east of) the Phoenix Convention Center. When departing the Convention Center, go south to Washington St., turn left, and go one block. Light hors d 'oeuvres and a cash bar will be available.