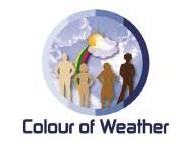 The theme of the 19th Annual Colour of Weather reception is :
"The Color of Weather - Past, Present, and Future"
The Colour of Weather (CoWx) was formed with the aspirational goal of enhancing the AMS beyond diversity. Geosciences, which includes atmospheric sciences, is recognized as being one of the least ethnically diverse disciplinary areas in the sciences. The atmospheric and related sciences communities continue to struggle with access and retention challenges with respect to ethnic minorities in the US. CoWx aims to foster greater inclusion and access of people from all backgrounds to broadened social networks across the Atmospheric and related sciences an emphasis on students and junior professionals with emphasis on individuals from underrepresented ethnic groups. During the #AMS100 session, we will highlight the history of CoWx, recognize champions of diversity and inclusion within the atmospheric sciences and related communities, and engage participants in activities that broaden socio-professional networks and build connections that will enhance the inclusivity within the AMS. We will also preview the film "Difficult Conversations with Underrepresented People of Color: Sense of Belonging and Obstacles to STEM Fields." The full film will be shown on January 13 from 12:15-1:45 PM in the BCEC Room 255 and will also feature a moderated discussion with the film maker.

We invite and encourage all individuals committed to a more equitable, accessible, and inclusive AMS to attend!

CoWx is co-sponsored by the NOAA Cooperative Science Center in Atmospheric Sciences and Meteorology (NCAS-M); the Graduate Program in Atmospheric Sciences at Howard University; the Department of Meteorology and Atmospheric Sciences at Pennsylvania State University; the Department of Earth Sciences at Millersville University; the Department of Meteorology at University of Oklahoma; and the University Corporation for Atmospheric Research (UCAR).

We do not and shall not discriminate on the basis of race, color, religion (creed), gender, gender expression, age, national origin (ancestry), disability, marital status, or sexual orientation, in any of our activities or operations.

For additional information, please contact Dr. Vernon Morris (e-mail: [email protected]).